Everything you need to run your business 
Streamline your scheduling, take payments manage a team and deliver a better experience for your clients.
Why choose BetterHQ scheduling & POS software?
Manage your business in one secure, easy to use platform, any time you need it.
Web-based app
Simply log into a web browser to book appointments and access client info from anywhere, on any device.
Modern design
You can be set-up and ready to go in no time because the app is built with modern design and user experience principles.
Easy & affordable
Pricing starts from just $19/mth with no set up fees & contracts. Start your free 30-day trial with no credit card required.
Secure & trusted
Backed by Reckon, an ASX Listed company with over 30 years experience in the software industry.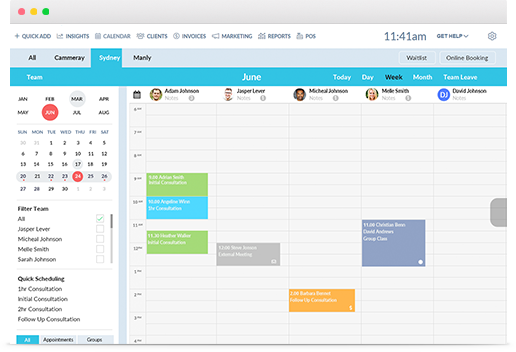 Online scheduling and appointments
Powerful online scheduling software that helps you manage your business efficiently.
✔ Access your calendar on the go
✔ Take online bookings 24/7
✔ Set-up re-occurring bookings
✔ Appointment wait-lists
✔ Sort your calendar by time period, staff member or location
✔ Appointments sync to sales
Client management and CRM Database
Client management software that enables you to generate more revenue and provide a better experience to your clients.
✔ Secure, central customer database
✔ Set-up a personal profile for each customer
✔ View appointment history and notes
✔ Segment your database for marketing
✔ Generate reporting & insights from your data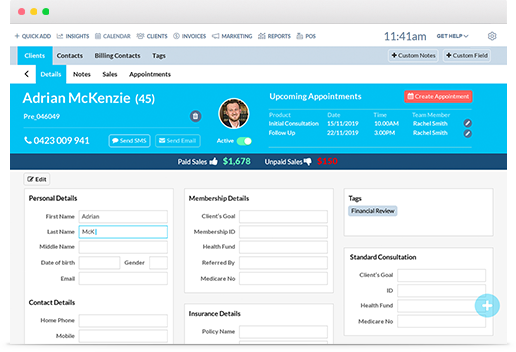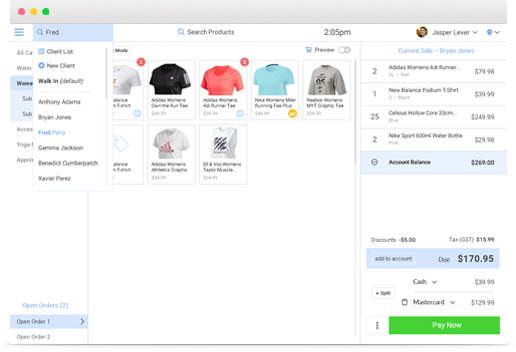 Point of sale
BetterHQ is a online point of sale system that makes it easy to sell to your customers and make sales.
✔ Add your products with images on your dashboard
✔ Customer insights & POS reporting
✔ Connect peripheral hardware
✔ Split payments, client accounts, parked sales and more
✔ Manage inventory and stock on hand
Take payments
BetterHQ is a online point of sale system that makes it easy to sell to your customers and make sales.
✔ Take payments with cash, card or PayPal
✔ Tyro integration, 99% uptime & contactless payments
✔ Stripe integration for taking online payments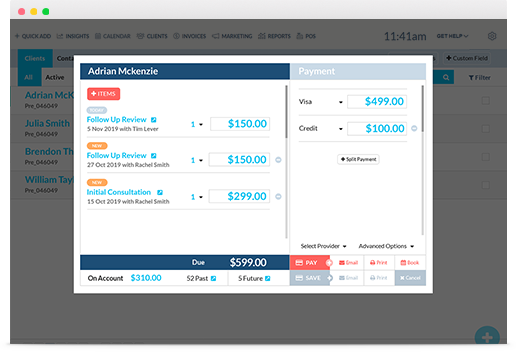 Email marketing functionality
Communicate with your clients and take your marketing efforts to the next level.
✔ Send SMS appointment reminders to your clients
✔ Generate special offers, promotions or newsletter emails
✔ Identify and win back inactive customers
✔ MailChimp and Campaign Monitor integration
✔ Tag your database by service or team member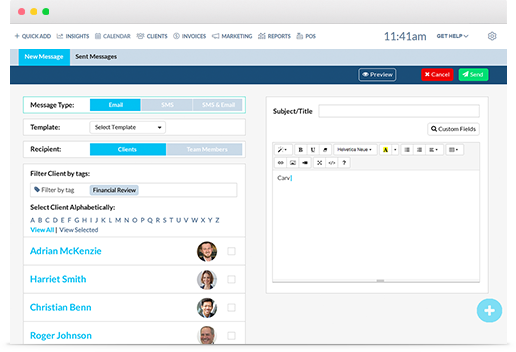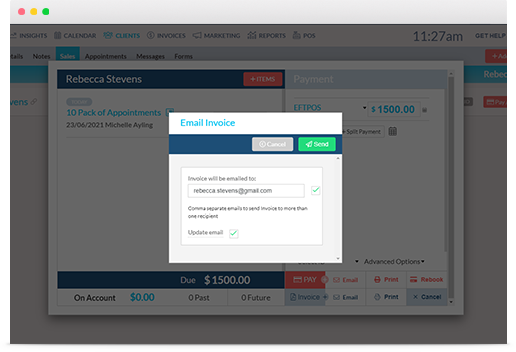 Team management for multiple staff and locations
BetterHQ makes it easy to manage a team – whether it be their schedule, performance or user permissions.
✔ Manage multiple team member or locations in one
✔ Individual user access permissions
✔ Manage your staff's availability with rostering
✔ Track individual and team performance
✔ Colour code your calendar across team members
"We used to keep all our customer information in a spreadsheet and spend hours a day on the phone booking & re-scheduling appointments. I now have all the information I need at my fingertips and it's made managing the day-to-day so much easier"